Interview of Aleš Michl, Bank Board member
Krystof Chamonikolas and Peter Laca (Bloomberg 16. 3. 2021)
The Czech economy has been "surprisingly resilient" against one of the world's worst coronavirus outbreaks, but market expectations of an interest-rate increase this summer may be premature, a central banker said.
With most shops and services closed since late December under a virus lockdown, private savings have surged and are likely to help fuel a robust recovery once restrictions are lifted, Ales Michl said in an interview. While investors are betting that rate hikes will start in August, he cautioned against tightening monetary conditions before the pandemic recedes.
"I'm a bit afraid we could hike prematurely, like the European Central Bank did in 2011," he said. "I can't imagine voting for a hike in May, and it's impossible for me to predict now whether I will be ready to start normalizing this summer or later."
The Czechs may be the first European Union country to raise rates as its export-oriented manufacturers of cars, electronics and other goods remain open and government stimulus helps keepinflation above the central bank's 2% target. While the bank's forecast shows as many as three rate hikes in 2021, starting from around the middle of the year, board members have signaled they'll hold fire for longer.
Apart from traditional data that come with a delay, Michl is also basing his view on the economy by using real-time proxy indicators such as electricity consumption, highway usage by trucks and the frequency of Czech internet searches for information about unemployment benefits.
With his team, he has created a new gauge called the Rushin Index, which captures high-frequency data with standard manufacturing and retail-sales figures. The measure signals that first quarter gross domestic product could be only slightly lower than the previous three months, despite a spike in Covid-19 cases.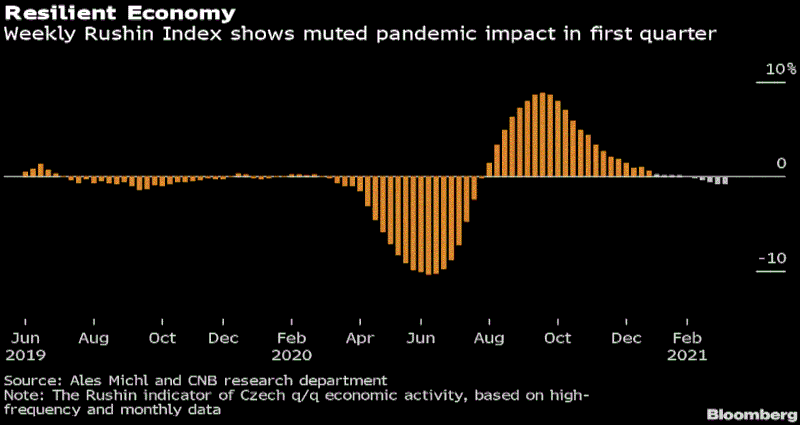 "If the index starts going down, that would suggest a slower recovery than I expected and would be a reason for me to delay rate hikes," said Michl.
The Czech economy entered the pandemic in strong shape.
Even after a year of intermittent lockdowns it boasts one of the EU's lowest unemployment rates, while output grew 0.6% in the fourth quarter from the previous three months.
A persistent shortage of workers is combining with the stimulus to prop up household spending, and the central bank assumes that an eventual economic recovery will rekindle underlying inflation pressures.
Weigh Hikes
Michl estimates that the shutdown of the retail and hospitality industries and a recent income-tax cut will generate about 200 billion koruna ($9.1 billion) of deferred consumer demand, equivalent to about 3.5% of GDP.
Still, he's remaining cautious as the country struggles to contain a death toll and infection rate that are among the world's worst and a vaccination campaign that is lagging behind many other EU states'.
"The economy is surprisingly resilient," said Michl. "The data shows a clear V-shaped recovery of the manufacturing industry, with both output and exports above pre-pandemic levels. The big question for me now is whether it will stay that way or turn into a W."