Gold Coin of the Town of Litoměřice
Preparation of designs for the coin – competition conditions (pdf, 2.2 MB) – in Czech only
Technical preparation of the coin – competition results – in Czech only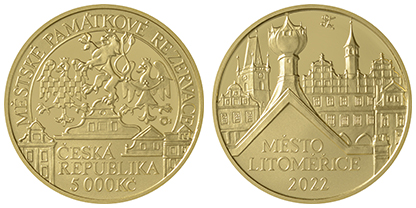 On 4 October 2022 the Czech National Bank is issuing the fourth gold coin from the Municipal heritage sites cycle. It features the town of Litoměřice. The coin is minted from 999.9 purity gold and is issued in two versions, normal quality and proof quality, which differ in surface treatment and edge marking. Proof-quality coins have a highly polished field, a matt relief and a plain edge. Normal quality coins have milled edges. The coin is 28 mm in diameter, weighs 15.55 g and is 1.95 mm thick. Deviations in diameter of 0.1 mm and thickness of 0.15 mm are allowed. Upward deviations in weight of 0.062 g and in gold content of 0.01% are allowed.
The upper part of the obverse side of the coin features heraldic animals from the large national coat-of-arms. The Czech lion is situated at the top, the Moravian eagle to its left and the Silesian eagle to its right. Written around the upper edge of the coin is the text "MĚSTSKÉ PAMÁTKOVÉ REZERVACE", under which there is an incomplete circle. The bottom part of the coin depicts partial façades and gables of Baroque and Classicist buildings. The text "ČESKÁ REPUBLIKA", along with the denomination and the abbreviated monetary unit "5 000 Kč", are located near the lower edge of the coin. The mark of the Czech Mint, in the form of the letters "Č" and "M", is located to the right below the Silesian eagle.
The reverse side features a collage of major architectural monuments of the Litoměřice municipal heritage site (from left to right: the Baroque house at Mírové náměstí 21/13, the Gothic tower of the Church of All Saints, the Pod Bání Renaissance building with its chalice-shaped tower (also called Dům Kalich or Dům U Kalicha – House at the Chalice) at Mírové náměstí 15/7, the Renaissance old town hall building at Mírové náměstí 171/40 and the building at Mírové náměstí 19/11 modified in the Classicist style. The text "MĚSTO LITOMĚŘICE" and the year of mintage "2022" is situated near the lower edge of the coin. The initials of the designer of the coin Lenka Nebeská – made up of the letters "L" and "N" – are located near the upper edge of the coin.
Each coin comes with a red catalogue card containing a description and the relief of the coin.
The Czech National Bank sells its commemorative coins through contractual partners licensed to trade in numismatic material.