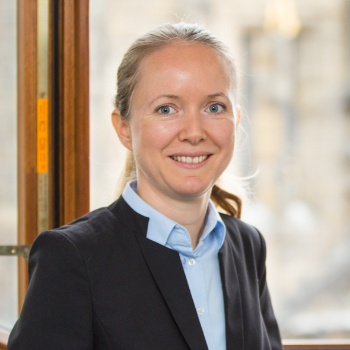 Volha Audzei
Head of Economic Research Unit
Economic Research Division, Monetary Department
Fields: financial frictions,
imperfect information,
macroeconomic modelling
Education: Ph.D. in economics CERGE-EI (2017)
Phone: +420 224 412 022
E-mail:
volha.audzei@cnb.cz
Work in Progress
Exchange rate depreciation in New Keynesian model with heterogeneous producers (with J. Matějů and I. Sutóris)
Selected Publications in Refereed Journals
Audzei, V., Slobodyan, S. (In Press) "Sparse Restricted Perceptions Equilibrium", Journal of Economic Dynamics and Control.
Audzei, V., Brùha, J. (2022) "A Model of Euro Area – China – United States: Trade Links and Trade Wars", Economic Modelling, vol. 11.
Audzei, V. "Confidence cycles and liquidity hoarding", accepted for publication in International Journal of Central Banking in 2021.
Audzei, V., Brázdik, F. (2018) "Exchange rate dynamics and their effect on macroeconomic volatility in selected CEE countries", Economic Systems, vol. 42(4), pp. 584-596.
Audzei, V., Brázdik, F. (2015) "Monetary policy and exchange rate dynamics: the exchange rate as a shock absorber", Czech Journal of Economics and Finance (Finance a úvěr), vol. 65(5), pp. 391–410.

Other information
Selected Projects
2012–2013 Within the project "Macro Model Data Base" - together with Sergey Slobodyan (project under supervision of Volker Wieland, Goethe University Frankfurt) I was contributing to database expansion, in particular rewriting DSGE models under adaptive learning in Dynare toolbox, Matlab; programing routines for database expansion in Matlab.
2011 Within IDEA project constructed GVAR model using GVAR toolbox for Matlab - together with Martin Kuncl (work was not published).
Awards
2015 Professor's Vencovsky price, first place (by VSFS, Prague)
2014 Participating in 5th Lindau Meeting on Economic Sciences
2014 Czech Econometric Society Award for the best paper in theoretical economics, second place
Back to the Profiles of Research Economists