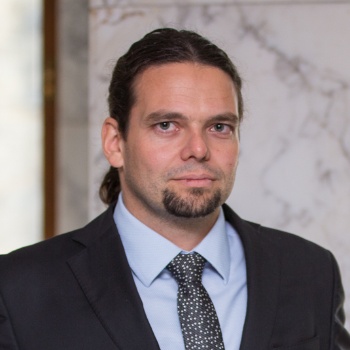 Branislav Saxa
Principal economist
Monetary Department
Fields: international economics,
internet search data econometrics,
monetary economics,
monetary policy communication
Education: Ph.D. (economics), CERGE-EI, 2009
Phone: +420 224 413 468
E-mail:
branislav.saxa@cnb.cz
Selected Publications in Refereed Journals
The Czech National Bank's monetary policy in the media, European Journal of Political Economy, Elsevier, 2012, 28(3), 341-357 (with Jiří Böhm and Petr Král)
Central Bank Forecasts as a Coordination Device, Czech Economic Review, 2012, 6(3), 244-264 (with Jan Filáček)
The Role of Inflation Persistence in the Inflation Process in the New EU Member States, Czech Journal of Economics and Finance (Finance a úvěr), 2010, 60(6), 480-500 (with Michal Franta and Kateřina Šmídková)
Learning-by-Exporting or Managerial Quality? Evidence from the Czech Republic, Economie Internationale, 2008, 115, 109-139
Other Information
Long-term research stays abroad:
University of Pennsylvania, Philadelphia, USA, 2006
Awards:
CEE Best PhD Thesis Award 2011 for outstanding doctoral dissertations in economics and finance on European integration issues. Awarded by UniCredit & Universities, Milano, Italy.
Karel Engliš Prize 2008 for the best paper on economic policy. Awarded by the Czech Economic Society.
Refereeing:
European Journal of Political Economy
Czech Journal of Economics and Finance, CNB Working Papers, OeNB Working Papers, IES FSV UK.
Back to the Profiles of Research Economists