Inflation report - attachment
II/2018
Wage growth in the euro area
(authors: Tomáš Adam, Filip Novotný)
Wage dynamics in the euro area remain subdued even ten years after the financial crisis. Nominal wage growth1 has seldom exceeded 2% since 2013 (see Chart 1). Wages have not accelerated significantly even since 2014, when the euro area began to enjoy rising economic growth and falling unemployment. Following tentative signs of increasing wage growth in the first half of 2017, wages slowed in the second half of the year. Wage growth in the non-business economy lagged a touch behind that in the business economy (by 0.4 percentage point).
Chart 1 (BOX) Nominal hourly wages in the euro area
Despite rising economic growth and falling unemployment, wage pressures remain subdued
(annual percentage changes; source: Eurostat)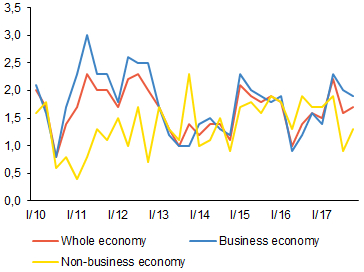 At the same time, wage dynamics are very mixed across euro area countries. In 2017 Q4, the fastest wage growth was recorded in the Baltic countries, followed some way behind by Slovakia, for example (see Chart 2). In Italy, by contrast, hourly wages dropped both in nominal terms and in real terms (i.e. adjusted for consumer price inflation). Spain and Austria also recorded wage decreases in real terms. In the euro area, nominal wage growth was 1.7% in 2017 Q4, while real wages were broadly flat. Wages in Germany and France, i.e. important countries for Czech foreign trade, rose at a similar pace as in the euro area as a whole.
Chart 2 (BOX) Hourly wages in euro area countries in 2017 Q4
Wage growth differs significantly across euro area countries
(annual percentage changes; bars – nominal growth, dots – real growth; source: Eurostat, CNB calculation)
Low wage growth in countries with high unemployment is not surprising given their economic slack. Although unemployment has fallen in all the euro area countries in recent years, unemployment rates in the southern countries remain above pre-crisis levels. Owing to involuntary part-time work, moreover, the overall unemployment rate underestimates the spare capacity in the economy. In this respect, the broader unemployment rate in the euro area was about 5 percentage points above the official unemployment rate according to ECB estimates2.
By contrast, the moderate wage growth in Germany, where unemployment is at historical lows, is attracting attention. From a historical perspective, though, the current wage growth in Germany cannot be regarded as alarmingly low. Comparing wage dynamics in four periods since 1998 (see Chart 3), wages have been rising fastest in the most recent period, especially in real terms owing to low inflation. The period of 1998–2002 was characterised by low economic growth and relatively high unemployment, in response to which labour market reforms (Hartz I–III) were implemented in the following period 2003–2008. This period also saw a real decline in public sector wages. After the financial crisis, Germany paradoxically recorded higher wage growth than before the crisis.
Chart 3 (BOX) Average nominal and real hourly wages in Germany
Owing to low inflation, real wage growth has recently been relatively high from a historical perspective
(annual percentage changes; bars – nominal growth, dots – real growth; source: Eurostat, CNB calculation)


The wage dynamics in Germany, which are muted despite historically low unemployment rates, can be explained by several factors.Migration from Eastern Europe, Italy and Spain,3 which has increased mainly because of the financial and debt crisis, is playing a major role. Workers from these countries are increasing the labour supply and perhaps exerting less upward pressure on wages than incumbents. Part-time workers, who account for almost 30% of the working population, also have less bargaining power and therefore put less upward pressure on wages. In addition, trade unions have recently been putting more emphasis on shorter working hours, and employees often prefer a better work-life balance to higher wage growth. A role is also played by the wage-setting mechanism, which in Germany and elsewhere has backward-looking elements and currently probably reflects the long period of low observed inflation. Last but not least, the slow nominal wage growth also reflects the relatively weak labour productivity growth seen in recent years.
The heterogeneity in wage dynamics observed across euro area countries reflects a correction of the imbalances that built up before the financial crisis. Now that the financial and debt crisis has faded away, the countries on the southern periphery are undergoing a gradual process of regaining competitiveness, reflected, among other things, in a decline or only modest growth in unit labour costs (see Chart 4). This process is being aided by labour market reforms implemented in the southern countries. As a result, growth in unit labour costs is higher in Germany than in these countries. This is a reversal of the trend observed in 2002–2008, when the southern countries were losing competitiveness relative to Germany (see the horizontal lines in the chart). In this environment, the return to the ECB's inflation target would speed up if labour cost growth in Germany were to markedly exceed 2%. A shift in this direction is suggested by, for example, the wage increase of 4.3% negotiated in February by the IG Metall trade union, which represents about 3.9 million employees.
Chart 4 (BOX) Unit labour costs in selected euro area countries
Unit labour cost growth in Germany following the financial crisis is higher than it was before the crisis, unlike in the southern countries
(annual percentage changes; horizontal lines – average growth in 2002–2008; source: Eurostat; calculations: CNB)


However, the wage growth outlooks available for the euro area and especially for Germany do not see wages accelerating significantly any time soon. Bearing in mind the constraints on comparing wage measures across countries, the February CF4 expects growth in hourly labour costs in the euro area to accelerate to 2.0% this year and 2.3% next year. The August CF had expected the same wage growth for this year, indicating that wage expectations are persistent and anchored at a relatively low level. Rising labour market tightness should foster only a gradual upswing in nominal wage growth, especially in 2019 (to 2.9% for negotiated wages).5
---
1 This box uses annual growth in hourly labour costs as the measure of wage growth. This indicator is not directly comparable with wage growth in the Czech Republic, which we comment on in section III.3 of the Inflation Report.
2 Economic Bulletin 3/2017, ECB.
3 According to Destatis (the Federal Statistical Office in Germany), the net migration inflow from these countries was 1.4 million in 2010–2016.
4 CF publishes an overview of expected productivity and wage trends in selected countries in February and August each year.
5 Monthly Report, December 2017, Deutsche Bundesbank.