Karina Kubelková – CNB Bank Board member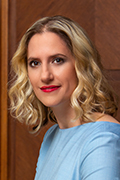 Karina Kubelková received her master's degree and doctorate in economic policy at the Faculty of Economics at the University of Economics in Prague, where she has been lecturing since 2009. She obtained an MBA from Université Jean Moulin Lyon III in France. She has participated in study, research and lecturing programmes at prestigious universities and institutions in Switzerland, the Netherlands, Italy, Germany, Finland, India, Russia and China. She is a member of the Accreditation Commission of the Czech Association of MBA Schools (CAMBAS). She worked as an economic analyst at the Office of the Government of the Czech Republic and the Office of the President. She specialises in data analysis, applied economic policy, macroeconomics and forecasting. In 2018–2022 she was a member of the Committee on Budgetary Forecasts. Before joining the Bank Board, she worked as chief analyst and head of the analysis unit at the Czech Chamber of Commerce and as an adviser on economic issues to Prime Minister Petr Fiala.
She became a member of the Bank Board of the Czech National Bank on 1 July 2022.