Karina Kubelková – CNB Bank Board member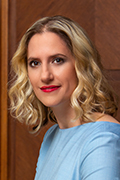 Karina Kubelková was born on 24 August 1983. She graduated from the Faculty of Economics at the University of Economics in Prague, where she received her doctorate in 2015. She subsequently participated in numerous internships and study programmes at universities abroad, such as the University of Padova in Italy, the University of Lausanne in Switzerland, the University of Amsterdam in the Netherlands, the University of Helsinki in Finland, the University of Mumbai in India and the Lomonosov Moscow State University in Russia. She later received her MBA at the University of Lyon in France. From 2010 to 2014 she worked as an economic analyst at the Office of the Government of the Czech Republic. From 2014, she prepared economic analyses for the Office of the President of the Czech Republic. Later she worked as the main analyst of the Czech Economic Chamber, where she also held the position of Secretary of the Economic Policy Section. In 2018–2022 she was also a member of the Committee on Budgetary Forecasts and in 2022 she joined the advisory body to Prime Minister Petr Fiala. She also joined the accreditation commission of the Czech Association of MBA Schools and the Scientific Council of the Czech Banking Association. In her work, she specialises in applied economic and social policy and macroeconomic forecasting.
She became a member of the CNB Bank Board on 1 July 2022.
Public appearance
Selected articles and interviews provided to the media
Selected speeches and lectures
---