Jan Frait – CNB Deputy Governor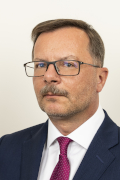 Jan Frait was born on 28 November 1965 in Slavičín. He graduated from the Faculty of Economics at VŠB-Technical University of Ostrava in 1988, where he also completed his postgraduate studies in 1995. The same year he received the Young Economist of the Year award from the Czech Economic Society for his paper Portfolio Model of the Balance of Payments (and its Application to the Czech Republic in 1992–1995). Since 1990, he has lectured at the Economic Faculty of VŠB-TU Ostrava, where he qualified as an Associate Professor in Economics in 1998 and was appointed Professor of Economics in 2002. In 2000 the President of the Czech Republic appointed him as a member of the CNB Bank Board. After his mandate expired in 2006, he stayed with the CNB, working first as an adviser to the Board and later as Deputy Executive Director of the Economic Research Department responsible for financial stability analysis. He became Executive Director of the independent Financial Stability Department in 2010 and of the multi-divisional Financial Stability Department in 2018. In these posts, he represented the CNB on the European Central Bank's Banking Supervision Committee, among other responsibilities. From 1999 to 2007 he was a member of the Board of Directors of the Czech Economic Society (CSE) and from December 2001 to January 2004 he held the post of CSE President. He has long worked as editor of Finance a úvěr – The Czech Journal of Economics and Finance. He specialises mainly in macroeconomics, financial stability, monetary theory and the international financial system. He has an extensive publication record on these topics in Czech and international journals.
He became a member of the CNB Bank Board on 1 July 2022. Jan Frait has served as CNB Deputy Governor since 13 February 2023.