Albín Bráf
(27 February 1851 Třebíč – 1 July 1912 Roztoky u Prahy)
After completing his studies at the Faculty of Law at Charles-Ferdinand University in Prague and then working in the courts, he became a teacher, first at a school founded by the Czech Women's Manufacturing Society and later at the Czech-Slavonic Business Academy. In 1877 he was awarded degrees in national economy and political economy from the Czech Technical College in Prague and Charles-Ferdinand University in Prague respectively. After the University was divided into separate Czech and German institutions, he became an associate professor (1882) and later full professor (1890) of political economy at the Faculty of Law at the Czech Charles-Ferdinand University in Prague, where he worked until his death in 1912. Albín Bráf was also heavily involved in political life. He represented the National Party (Old Czech Party) in the Bohemian Provincial Parliament (1883–1895) and the Czech Provincial Committee (1887–1891). In 1905 he was made a life member of the Austrian Senate and later twice held the position of Minister of Agriculture in governments of Cisleithania (1909 and 1911–1912).
Albín Bráf was the first university lecturer to teach economics in Czech, for which he also proposed key economic terms. His lectures were based on a theory combining the findings of the German historical school, academic socialism and the Austrian School. As he was a proponent of the Czech economic revival, he promoted the ideas of national self-help under the slogan "Each to his own". He aimed to use national "self-help protectionism" to create a strong Czech industry as a prerequisite for the development of the Czech nation. He was also a major organiser of Czech economic life, pushing through the establishment of Zemská banka Království českého and the Economics Institute at the Czech Academy of Sciences and Arts.
His teaching and publishing activities influenced most of the Czech economists who were active in the interwar Czechoslovakia. Unlike his successors, however, he did not produce a comprehensive account of economics. A collection of Bráf's work, the core of which consists of cycles of lectures, was published by his students Cyril Horáček and Josef Gruber.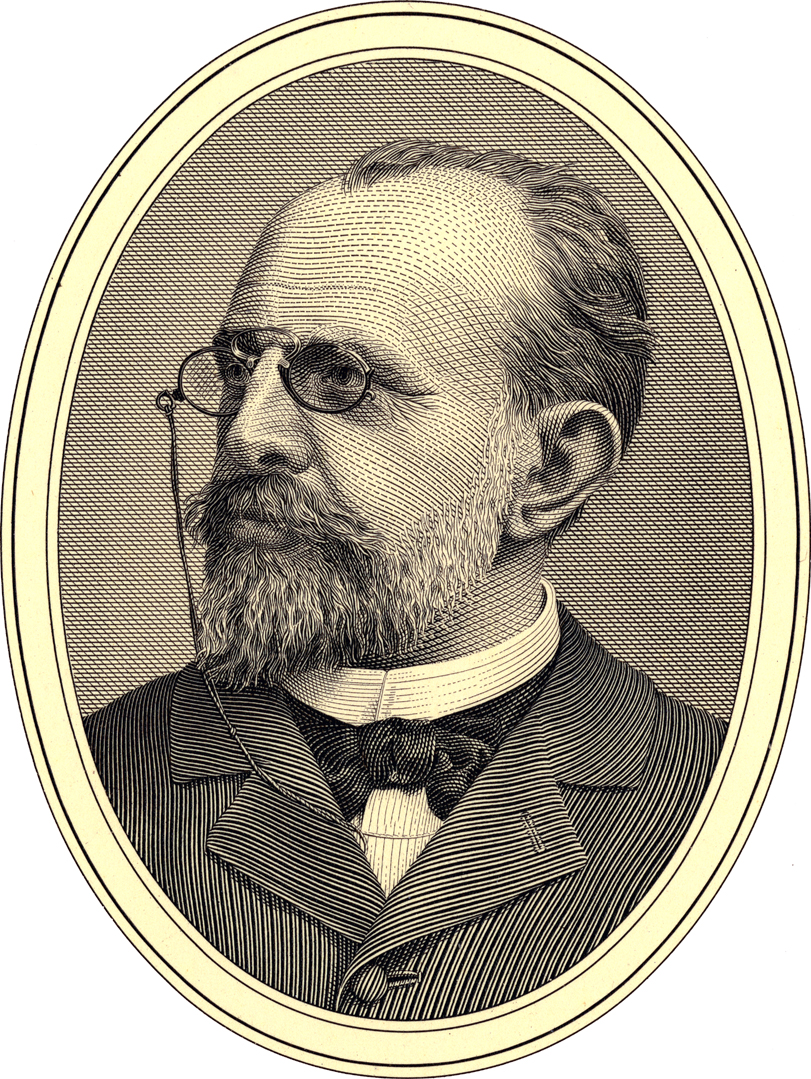 Albín Bráf in a 1935 engraving by Karel Wolf (1894–1966).
Prepared by the Banknote Printing Works of the National Bank of Czechoslovakia in Prague.
Currency in the age of Albín Bráf
Coins, banknotes, treasury notes and other, unconventional means of payment (issued as a result of the parlous state of Austrian finances in the first half of the 19th century) of four currencies – silver Convention, paper Viennese, silver Austrian and gold krone – were in circulation in Bráf's lifetime. The oldest was the 20-gulden currency (20 guldens, each worth 60 kreuzers, were minted from a silver Cologne mark), introduced during the reign of Maria Theresa under the coinage convention with Bavaria of 21 September 1753, which gave it the name "Convention currency". It was abolished as of 31 October 1858 by an imperial patent of 27 April 1858. The last coins were withdrawn on 31 December 1892.
Convention thaler, equal to two guldens in Convention currency, dated 1851. Minted from 833⅓/1000 silver, 17.5 Vienna lines (38.41 mm) in diameter, 28.06 g in weight. The obverse side features the head of Franz Joseph I with a laurel wreath and a ribbon and a text listing the emperor's titles. The reverse side features the Austrian coat-of-arms and a continuation of the text. The edge is smooth with the imperial motto "Viribus unitis". The coin was designed by Conrad Lange and minted by Haupt-Münzamt, Vienna. However, hoarded circulating high-denomination silver coins were not used for payments at the time. Small coins, banknotes and treasury notes were commonly used. The first coins featuring the young emperor were thus used rather as commemorative coins and souvenirs.
Banknote of Privilegirte oesterreichische National-Bank, equal to 10 guldens in Convention currency, sixth issue, dated 1 July 1854. Paper with watermark, 145×115 mm, hand-engraved copperplate print and letterpress. The face side features the head of Austria with a mural crown, a sceptre and a sword with ivy and laurel branches, the head of Minerva in a helmet, the Austrian eagle with symbols of science, art, trade, industry, agriculture and navigation, the imperial motto "Viribus unitis", texts, and the denomination in ten languages. The reverse side is unprinted. Designed by Peter Johann Nepomuk Geiger, engraved by Franz Xaver Stober and Carl Radnitzky and printed by Privilegirte oesterreichische National-Bank, Banknoten-Fabrikation in Vienna. The note was valid from 1 October 1855 to 30 September 1859 and exchangeable until 31 December 1866. The last Convention currency banknote, it was equivalent in value to approximately the two-week wage of a skilled worker, the one-week income of a railway worker or the two-day pay of a senior official. It would buy about 50 kg of bread or 15 kg of meat.
Unrealised banknote designs bearing the portrait of Albín Bráf
Albín Bráf's portrait almost made it onto a Czechoslovak banknote/treasury note. Most banks of issue have back-up cash ready at almost any time in case they need to alter or exchange currency in circulation. In the mid-1930s, against the backdrop of the rise of Nazism and the threat of war in Europe, the National Bank of Czechoslovakia and the Ministry of Finance prepared a back-up issue of banknotes and treasury notes. Low-denomination treasury notes, capable of replacing hoarded coins, and higher-denomination reserve banknotes were made ready. These projects were top secret, so we do not know much about them. Of all the denominations and types prepared, only Kč 1 and Kč 5 "mobilisation" treasury bills were made. After the demobilisation, however, they were surplus to requirement and they were used only temporarily in the Protectorate of Bohemia and Moravia in 1940.

Two collage designs for a fourth-issue Kč 50 banknote/treasury note bearing the portrait of Albín Bráf. Cardboard, dimensions 160–162×77 mm, copperplate print, letterpress and hand drawing. Prepared by the Banknote Printing Works of the National Bank of Czechoslovakia in Prague using an impression of an engraving of Albín Bráf by Karel Wolf and prefabricated print elements of older banknotes.