Inflation report - attachment
IV/2009
Investment in housing during the business cycle
The Czech property market, like the whole of the Czech economy, has been through turbulent times of late. However, the property market has not been moving entirely in line with the overall business cycle (see Chart 1), as it has been affected by numerous specific legislative, demographic and other factors.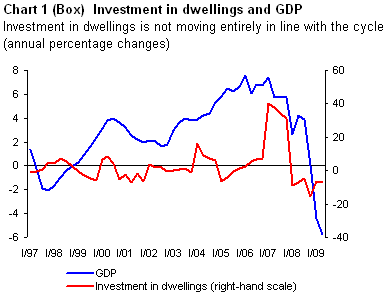 The adoption of two key acts, Act No. 72/1994 Coll., on Flat Ownership, and Act No. 84/1995 Coll., on Mortgages, which created the necessary starting conditions for launching the property market effectively, was a turning point in the transition of the property market to a market economy. In line with overall economic growth, and in particular growth in household incomes, there was a gradual increase in investment in dwellings (primarily in owner-occupied housing in Prague, which accounts for about three-quarters of the residential market in the Czech Republic). The dynamic rise in demand for housing was also due to demographic characteristics, particularly a high number of people aged between 25 and 45 purchasing a home (the large generation of the 1970s entered the property market in 2002–2007), as well as to a gradual change in lifestyle (e.g. a rising divorce rate and the foundation of one-member households). Rent deregulation was another significant factor. Expectations related to EU accession and, later on, expectations stimulated by a change to the VAT rate on construction work were extremely strong factors causing a sharp increase and a subsequent decline in prices of, and investment in, dwellings in past years.
The effect of the last-mentioned factor can be shown using housing construction indicators (see Chart 2). Following a decline in housing construction in the first half of the 1990s because of the termination of state subsidies for housing construction and an unfavourable demographic trend, the number of housing starts and housing completions started to grow apace. The biggest increases in the number of housing starts in 2002 and then in the number of housing completions in 2004, which occurred as a result of high demand stimulated by expectations of stronger growth in prices of residential property among both households and developers, led to a sharp rise in investment in dwellings in 2004. Roughly in mid-2006, after a short period of calm on the property market, there started a period driven by increased demand for housing. The extremely high housing demand in 2007 was reflected in a record annual increase in the number of housing completions (38%) and in a rise in investment in dwellings (of more than 30% quarterly on average) financed by a rising volume of mortgage loans. The "frontloading" in 2007 resulted in falls in the numbers of housing starts and completions and the deepest-ever quarterly declines in investment in dwellings in 2008. These extreme fluctuations were generated by a combination of cyclical factors, primarily high growth in household incomes, low unemployment and low interest rates on mortgage loans, and an extraordinary factor, namely an increase in the VAT rate on construction work with effect from 2008 and related expectations of higher growth in residential property prices.
The global financial and economic crisis in autumn 2008 hit the Czech property market during 2009, when housing demand fell by about 30% on average and by as much as 50% in some market segments. This was mostly due to the overall economic situation, including a rising unemployment rate and related uncertainty regarding the ability of households to repay mortgage loans, whose availability to households moreover deteriorated because of a more cautious approach of banks to providing new mortgage loans. In addition, households are postponing house purchases in expectation of a further fall in prices and owing to a lack of confidence in project completion by developers. The number of housing starts and investment in dwellings are both declining as a result of the falling demand (see Chart 2). Housing demand is developing in line with prices as expressed by transfer prices (realised prices) and supply prices (see Chart 3).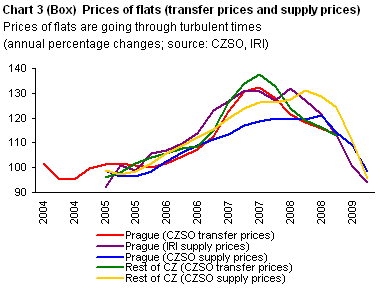 According to the latest forecasts by property specialists, any recovery in the property market depends on the emergence of favourable macroeconomic developments. Most experts believe that this year's halt in the construction of most developer projects and the partial postponement of household demand for residential property will give rise to growth in demand in 2010 (or future years). This, in turn, could lead – together with supply being limited to sales of new flats completed in previous years – to a modest rise in residential property prices depending on project location and quality. The modest increase in flat supply prices recorded in 2009 Q3 – except in Prague, which will probably join the growth trend later on – can be considered the first sign of a turnaround in the property market.
As the Czech property market is affected in the long run by the convergence nature of the Czech economy, i.e. by the "catching-up" of quantitative and qualitative property market indicators (e.g. a rising ratio of household borrowing to GDP and increasing floor area per capita), the market for new housing and investment in owner-occupied housing still have large growth potential.