Inflation report - attachment
IV/2004
Petrol prices and their impact on inflation in the Czech Republic
The issue of world oil prices and domestic fuel prices and their effect on inflation was addressed in a box in the July 2000 Inflation Report. In the subsequent period (and particularly lately) pressures have been observable which are expected to result in rising fuel prices. Since around 2002 H1, oil prices have been gradually rising on world markets. This rise has picked up pace in recent months due to the geopolitical tension in the Middle East and as a result of the political instability in Venezuela and Nigeria. In recent weeks, prices of Brent North Sea crude oil have several times surpassed their previous daily highs and have repeatedly broken through the magic threshold of USD 50 a barrel as a result of new information on low oil reserves in the USA and the impacts of Hurricane Ivan in the Gulf of Mexico (with even higher values being achieved by prices of WTI crude oil, which the media tend to focus on because of its dominant significance for the American market). On 1 January 2004, moreover, excise duty on fuels was increased in the Czech Republic. Specifically, the duty on diesel fuel was increased by CZK 1/liter to CZK 11.84/liter. The effect of this taxation was multiplied (see Chart 1) by value added tax, which at that time was 22% (later lowered to 19%).
Chart 1 (Box)
At present excise duty and VAT account for roughly 60% of retail price of petrol (in CZK, September 2004 average)
Despite the fuel price growth factors mentioned above, however, the prices of the highest-selling type of petrol, Natural 95, have not shown a significant upward trend over recent years (see Chart 2). There are several reasons for this. First, prices of Ural crude oil, which is an input to the vast majority of fuel production in the Czech Republic, are not derived from short-term highs, but from the average prices for past periods, which for the time being are still much lower than the short-term highs. The second reason is the koruna's appreciation against the dollar. This appreciation, observed since around 2002 H2, has counteracted the rising koruna prices of oil imported into the Czech Republic. The koruna prices of imported oil are thus at approximately the same level as in mid-2000.
Chart 2 (Box)
Fuel price inflation in the Czech Republic was in addition to rising oil prices attributable also to the appreciating CZK/USD exchange rate
The third reason for the weak reaction of fuel prices to the rise in world oil prices is a sizeable reduction of margins in the area of production, distribution and sale of fuels on the domestic market over the past several years. Finally, it should be mentioned that the impacts of the changes in the koruna prices of oil on retail petrol prices have been significantly dampened by the principle whereby excise duty is defined not as a percentage surcharge on the vendor's price excluding taxes, but as an absolute amount per litre of petrol. This amount currently represents about one-third of the total price of petrol, hence its dampening effect is very pronounced. The CNB's analyses generally indicate that a 10% change in the koruna prices of imported oil translates into a roughly 0.2 percentage point change in domestic inflation.
Chart 3 (Box)
Contribution of fuel price changes to total inflation was changing its sign (annual changes in percentage points)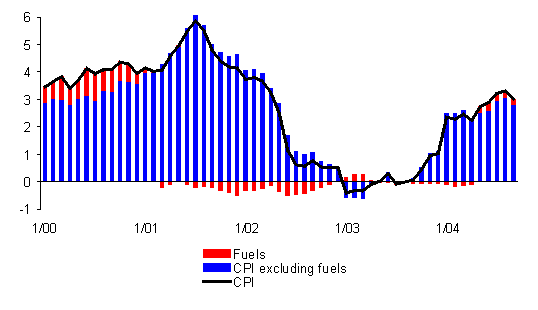 Retail fuel prices have shown no clear trend over the past several years. As a result, their direct contribution to consumer price inflation has swung between positive and negative figures (see Chart 3). In 2004 Q3 specifically, this contribution in fact gradually fell, from almost 0.3 percentage point in July to 0.2 percentage point in September.