Binary options trading remains possible only for professional investors
The Czech National Bank has issued a provision of a general nature prohibiting the marketing, distributing or sale of binary options to retail clients. This step is a follow-up to the temporary binary options-related decision issued with EU-wide effect by the European Securities and Markets Authority (ESMA) in May 2018.
The provision of a general nature was published on the CNB's official board and takes effect on 2 July 2019.
Binary options are a derivatives-type investment instrument that began to develop on financial markets in 2000. They started to be used more extensively after 2008, when the SEC (the US Securities Commission) approved their sale to retail investors. They are usually a very short-term (minutes-long) investment very similar in structure to off-course betting or other games of chance. Their underlying assets are usually currency pairs, equities, precious metals or stock market indices. Clients "bet" on an increase or decrease in the underlying asset. If they guess correctly, they get back their investment plus a profit. However, if they guess wrongly, they lose all the money they put in. A binary option is not a typical option, as there is no right to buy the underlying asset at an agreed price.
The European Securities and Markets Authority in May 2018 issued a temporary decision prohibiting the marketing, distribution or sale of binary options to retail clients. The decision was based on extensive analyses proving the flawed nature of binary options for such clients. This decision is effective until 2 July 2019 and the ESMA has called on Member States' supervisors to follow up with their own measures.
Professional clients are defined in the Capital Market Undertakings Act. Generally, they are entities that are assumed to have sufficient experience in financial market trading.
The CNB has repeatedly drawn attention to the harmfulness of binary options for retail clients in the past, for example in its Capital Market Supervision Reports. It published an opinion on the unsuitability of binary options trading by retail clients on its website in 2015.
The instrument's binary nature, with the client having only to "guess" the movement in the price of the underlying asset, combined with its short-term nature, makes it very similar to a game of chance. It has been reported that some investors "bet" further money on binary options at short intervals even when their total loss keeps increasing. Model calculations show that the probability of making a profit decreases as the number of trades increases – the probability of loss is 59% for 20 trades and 99% for 1,000 trades.
However, the main danger of binary options for retail clients lies in their lack of transparency. Binary options are traded off organised markets, so their pricing, settlement and other conditions are not standardised. It is hard for retail clients to understand the conditions of this product due to its complex price structure, which is exacerbated by various margins.
Until the ESMA issued its prohibition, binary options were offered primarily on a cross-border basis via the internet. According to information from other capital market supervisory authorities of EU Member States, 87% of retail clients have suffered losses in binary options trading in the EU. The CNB has also received complaints from aggrieved clients of foreign binary options providers.
More information is available in the provision of a general nature (English translation under preparation).
CNB model showing binary options trading: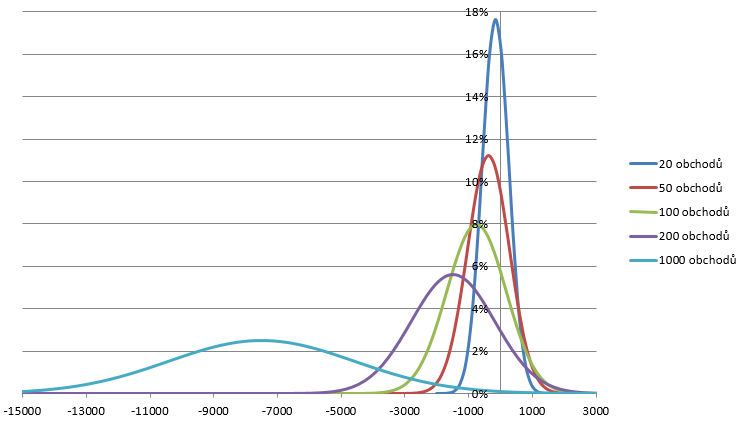 Horizontal scale – total return in CZK or other currency; vertical scale – probability of client making such profit.
The table below shows the probability of total loss for different numbers of trades.
| Number of trades | Probability of total loss |
| --- | --- |
| 20 | 58.81% |
| 50 | 76.01% |
| 100 | 81.59% |
| 200 | 88.54% |
| 1,000 | 99.48% |
Markéta Fišerová
Director of the Communications Division and CNB Spokesperson