Commemorative silver coin to mark the 250th anniversary of the birth of Václav Thám
Preparation of designs for the coin – competition conditions (pdf, 254 kB) – in Czech only
Technical preparation of the coin – competition results – in Czech only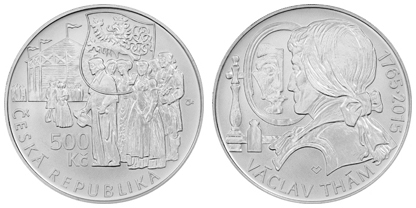 On 21 October 2015 the Czech National Bank is putting into circulation a CZK 500 commemorative silver coin to mark the 250th anniversary of the birth of Václav Thám. The coin is minted from an alloy containing 925 parts silver and 75 parts copper and is issued in two versions, normal quality and proof quality, which differ in surface treatment and edge marking. Proof-quality coins have a highly polished field, a matt relief and a plain edge with the inscription "ČESKÁ NÁRODNÍ BANKA * Ag 0.925 * 25 g *". Normal quality coins have milled edges. The coin is 40 mm in diameter, weighs 25 g and is 2.8 mm thick. As with any other coins, deviations in diameter of 0.1 mm and thickness of 0.15 mm are allowed. Upward deviations in weight of 0.50 g and silver content of 1% are permitted.
The obverse side of the coin features a group of people representing an audience of the general public. A fragment of the national emblem with the Czech lion bonds this diverse group of people, symbolising their patriotism. The denomination of the coin "500" is located to the left of the group, with the abbreviation of the monetary unit "Kč" below. The left-hand upper edge features the Bouda wooden theatre. The name of the state "ČESKÁ REPUBLIKA" is located around the left-hand lower edge of the coin. The mark of the Czech Mint, in the form of the letters "Č" and "M", is located near the edge of the coin to the right of the group of people. The reverse side of the coin features a three-quarters rear view of Václav Thám looking into a mirror reflecting a male face. The lower edge of the coin contains the words "VÁCLAV THÁM". The years "1765" and "2015" are situated near the right-hand edge. The initials of the designer of the coin, sculptor Michal Vitanovský, made up of the intertwined letters "MV", are located near the shoulder of the portrait.
Each coin comes with a light green catalogue card containing a description and the relief of the coin.
The Czech National Bank sells its commemorative coins through contractual partners licensed to trade in numismatic material.