Vojtěch Benda – CNB Bank Board member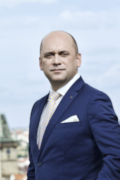 Born on 7 July 1975. Vojtěch Benda graduated from the Faculty of International Relations at the University of Economics in Prague in 1999. He has also completed a specialised course on macroeconomic analysis and policy at the IMF Institute in Vienna and a number of other courses and training programmes in economic policy and forecasting methods organised under the auspices of Banca d'Italia, Banque de France and others. In 1998 he joined the Czech National Bank, first as an economic analyst and later as a principal economic analyst in the Monetary Department. In 2006–2012 he was senior economist in the international economic research team at the ING financial group, where he specialised in macroeconomic analysis and financial market strategy. In 2013–2014 he was in charge of stock market analysis and strategy as chief economist at BH Securities. In April 2014 he became an adviser to Bank Board member Jiří Rusnok.
Vojtěch Benda became a member of the Bank Board of the Czech National Bank on 1 July 2016.